Skip to product information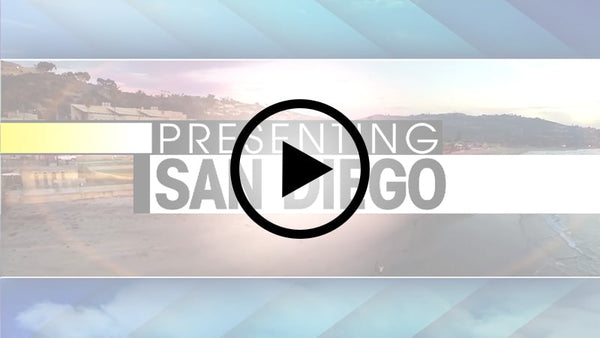 Natural Joint was featured on Presenting San Diego! (press play to watch)
Made with vegetables & fruits high in anti-inflammatory antioxidants to help synovial fluid cushion your joints while plant enzyme proteins help build back density for joint care. Natural Joint is the only clean joint supplement that offers all natural joint plant remedies that actually work. We're so confident in our joint support formula that we offer a 30-day money back guarantee.
Helps Support Synovial Fluid
Antioxidants To Reduce Inflammation
Relieves Joint Pain
Increases Joint Mobility & Flexibility
Free Shipping
30-day Money Back
Nutritional Information & Ingredients

Each serving size contains 1 vegetarian capsule.
Servings per container: 30

Full Ingredient List:

Avocado/Soybean unsaponifiables, Mineralized seaweed (Lithothamnium sp.), Fruit & Vegetable Blend (apple, pineapple, tomato, carrot, orange, cauliflower, beet, lemon, blueberry, celery, grape, grapefruit, kale, prune, raspberry, strawberry, watermelon, radish, broccoli, Brussel sprouts, cantaloupe, cherry, leek, lime, onion, papaya, peach, pear), Green tea leaf extract, Sodium hyaluronate, Protease (20,000 U), Bromelain (from pineapple stem), Holy basil leaf extract, Rosemary leaf, Boswellia serrata gum resin extract, Grape Seed extract, Olive leaf extract, Pomegranate fruit extract, Rosemary leaf extract, Tomato fruit concentrate (25mcg of lycopene) Hypromellose, silica, talc and stearic acid.
View full details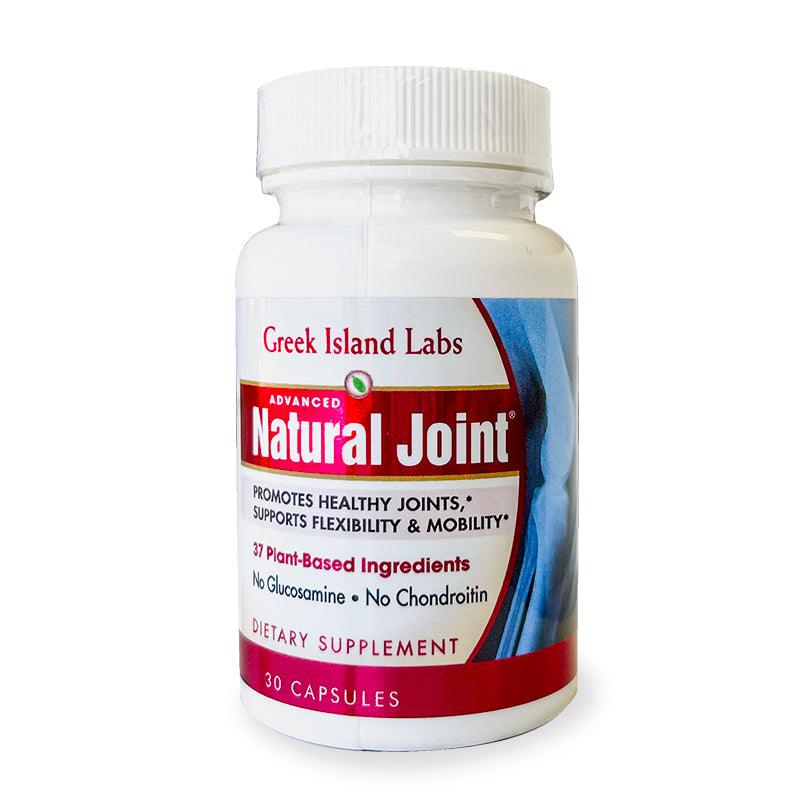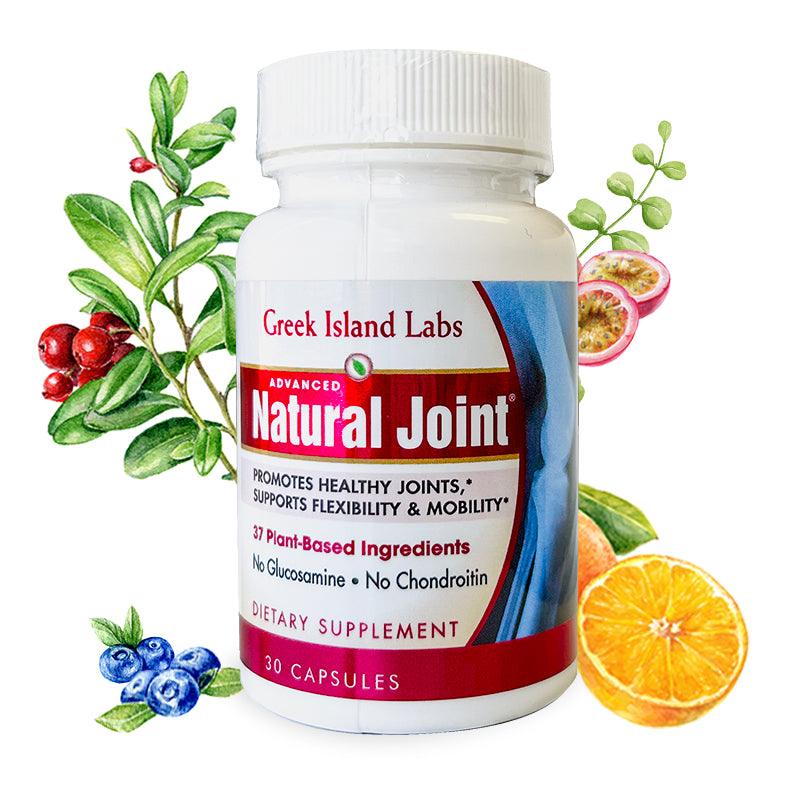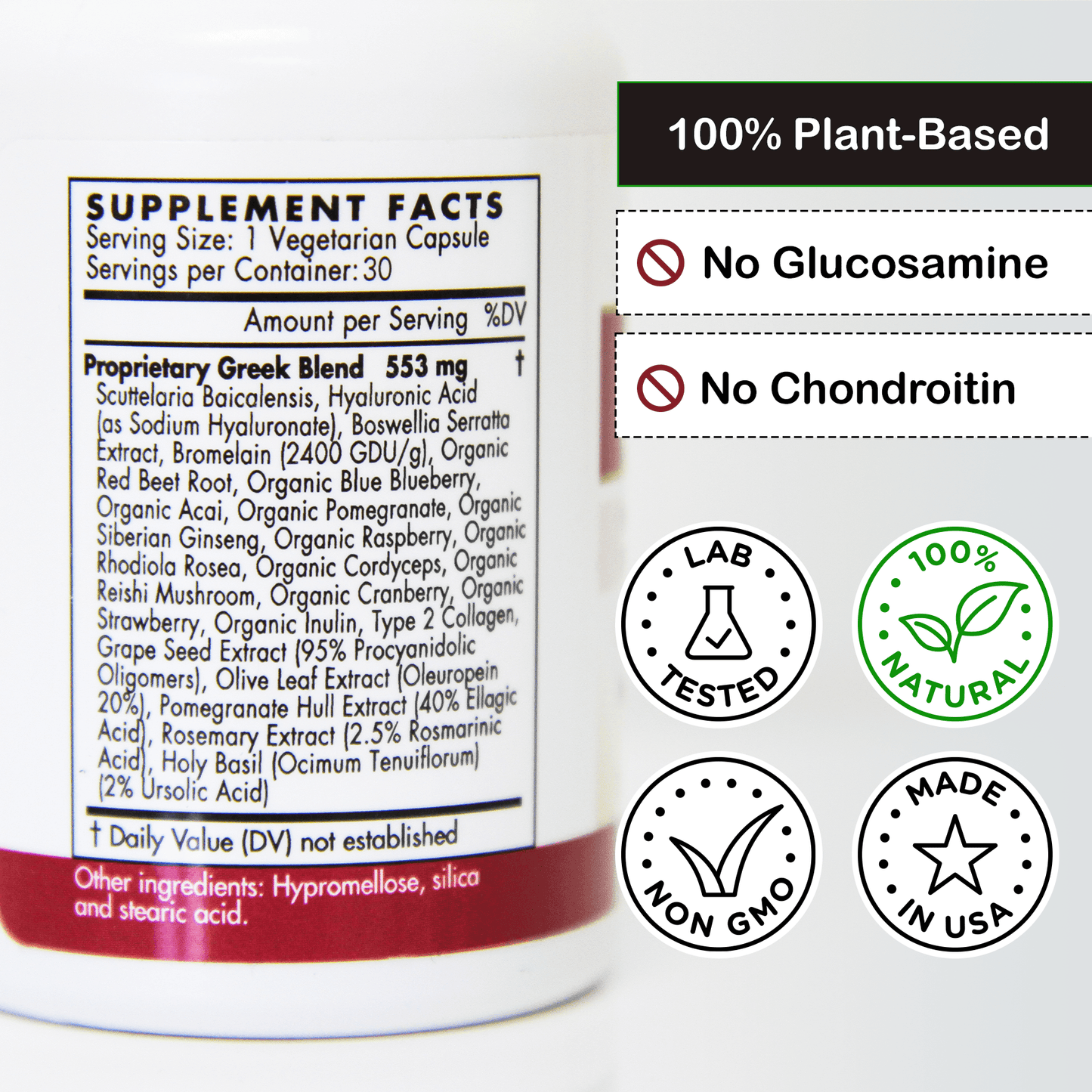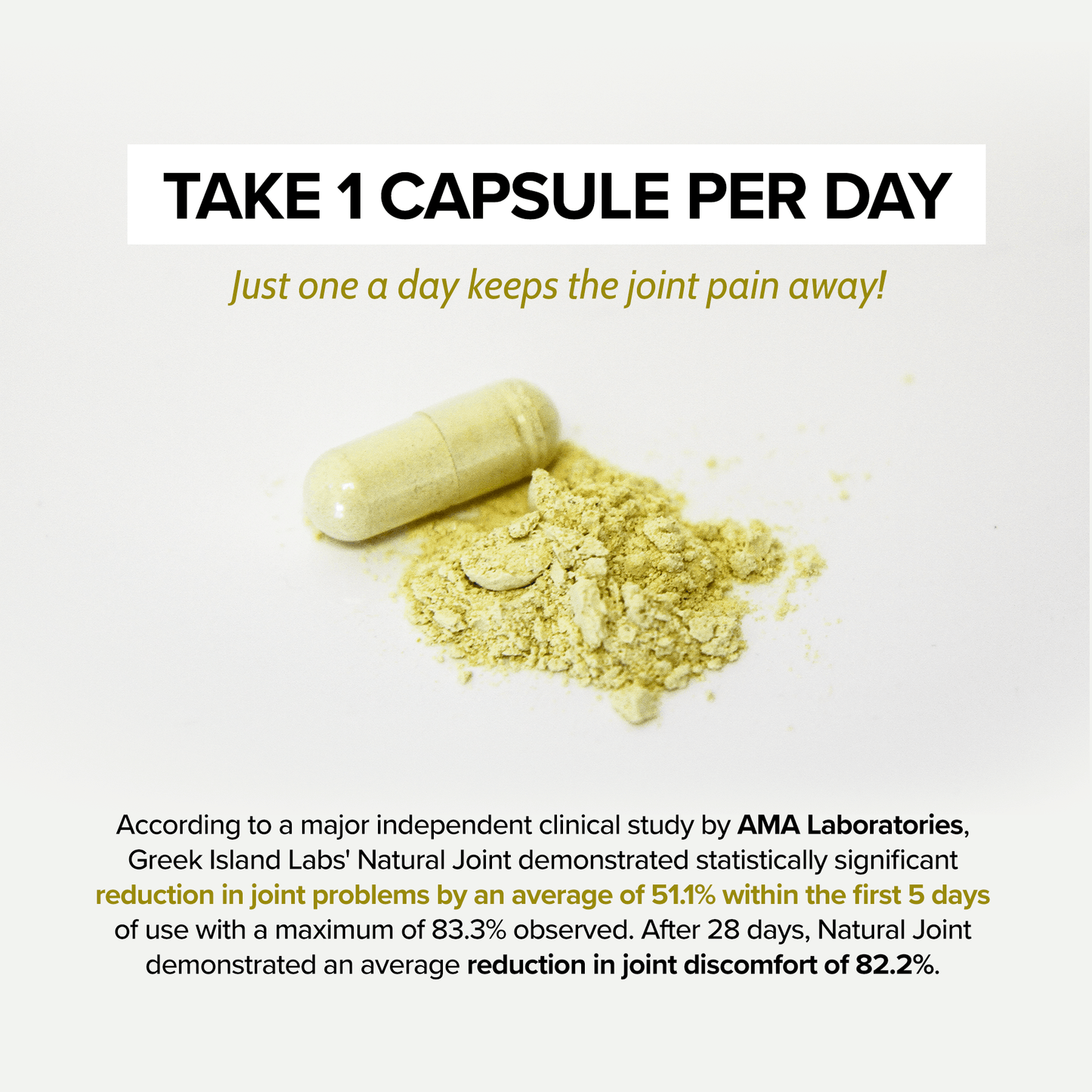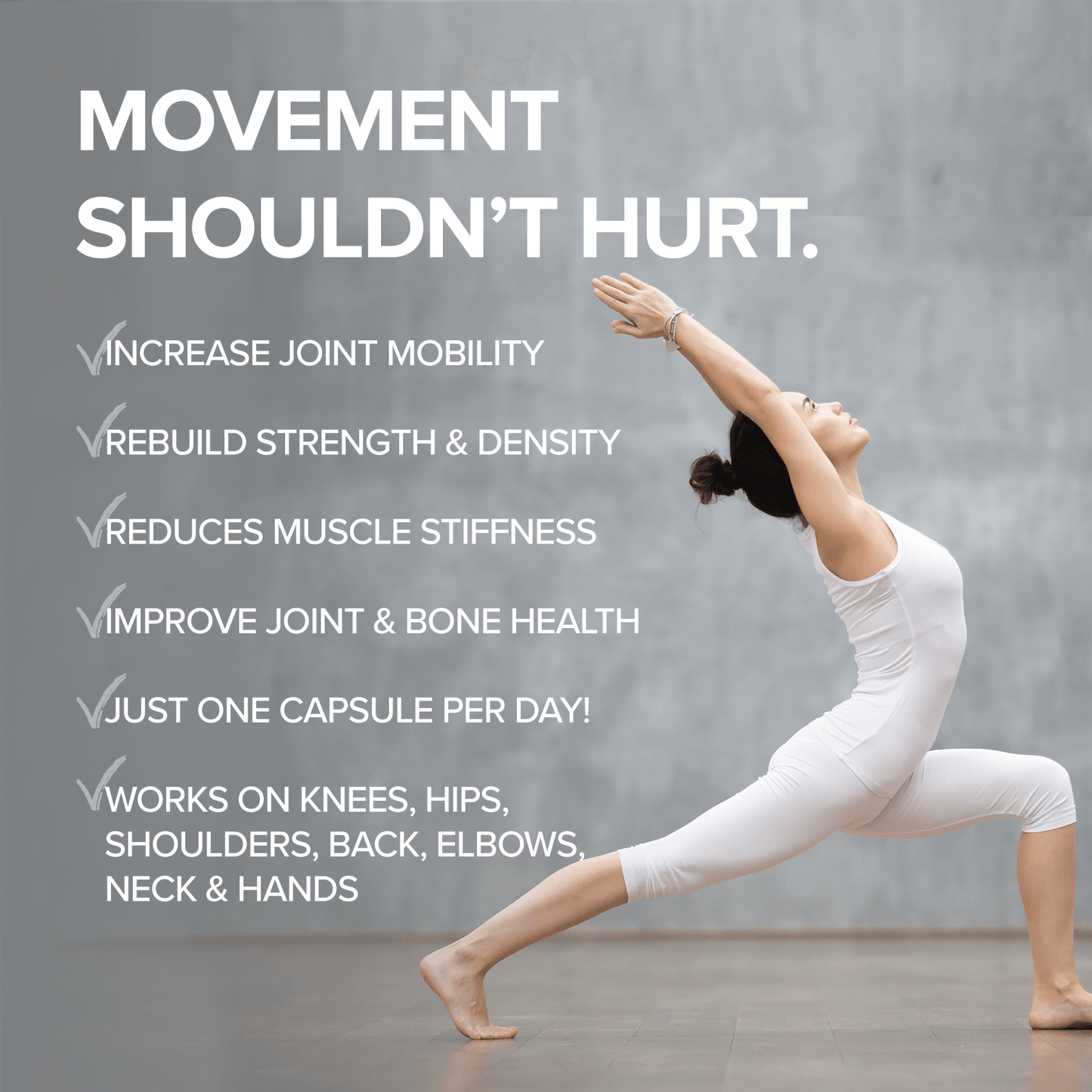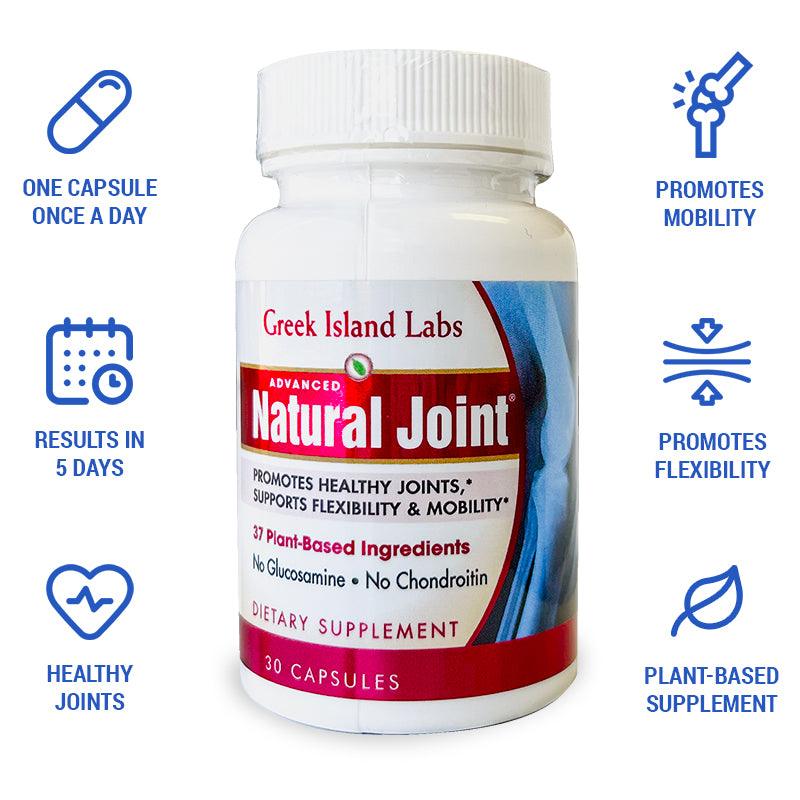 Clinically Tested
51

%

*
reduction in joint pain
reported within the first 5 days
82

%

*
reduction in joint pain
reported within the first 28 days
* Greek Island Labs' Natural Joint, when used in accordance with intended package directions demonstrated statistically significant reduction in joint pain by an average of 51.1% within the first 5 days of use with a maximum of 83.3% observed, and a reported 78.95% improvement in joint mobility within 28 days of daily consumption.
No Gluten
No Chondroiton
No Glucasomine
No Animal Products
No Chemicals
100% Plant-Based Ingredients
Guaranteed to be good.
Red Seaweed
Contains sulfated polysaccharides which has anti-inflammatory & antioxidant.
Olive Leaf
Reduced joint pain and stiffness in individuals with rheumatoid arthritis.
Holy Basil
An herb commonly used in traditional medicine to treat joint pain and inflammation.
Avocado
Delicious and packed with nutrients that benefit joint health.
Grape Seed
Contains antioxidants that help neutralize harmful free radicals in the body.
Cherry
High antioxidant content including compounds such as anthocyanins and polyphenols.
Suggested Use
Take one capsule daily in the morning with food. Or take twice a day for quicker results.